Sentronics Mobile Flow Meter Calibration Rig Makes IMSA Debut
23 March 2023: Sentronics Limited, the British ultrasonic flow measurement technology company, debuted their innovative TrackCal mobile calibration rig at the Roar Before the Rolex 24 test preceding this year's running of the Rolex 24 at Daytona, America's flagship endurance racing contest.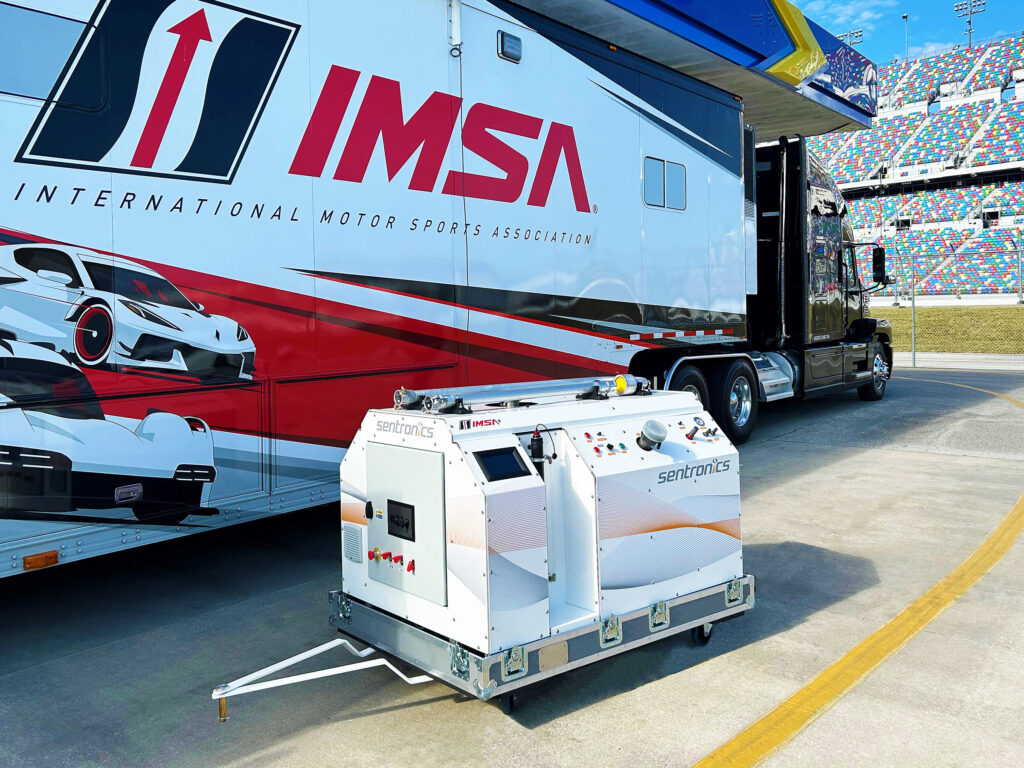 The TrackCal is designed to perform trackside calibration of the two Sentronics fuel flow meters (FFMs) mandated for use in the IMSA WeatherTech SportsCar Championship (IWSC): the FlowSonic on-car sensor used in IMSA since 2018 and the newly mandated RigFlow unit fitted to each team's pit lane refuelling tank. The two FFMs play a key role in IMSA's scrutineering and real-time performance monitoring processes.
At Daytona, the TrackCal exceeded expectations in delivering trackside access to rapid, laboratory-grade calibration in the run-up to the IWSC season opener. Previously sensors had to be shipped from the US to the UK and back to receive their required off-season service and recalibration, incurring considerable cost and leaving teams without their FFMs during winter testing and development.
Built within a flight case for protection and portability, the TrackCal allows in situ calibration in both garages and pit lane, minimising disruption to team preparations and operations. As with the FFMs themselves, the TrackCal is compatible with a wide range of fuel types. Patented state-of-the-art measurement and automation processes facilitate rapid validation and adjustment, ensuring that all sensors in the championship are accurate to within ±0.5% of reading, offering a level of precision unprecedented outside of the laboratory.
The TrackCal's presence at Daytona was well received by IMSA technical staff and teams alike. Matt Kurdock, IMSA Senior Technical Director, said, "Fuel flow measurement is a critical aspect of IWSC competition. Sentronics' introduction of the TrackCal provides IMSA with a mobile platform that significantly improves the efficiency of the calibration process and maintains sensor performance while reducing cost for our North American-based teams. The TrackCal is yet another example of the customer-focused solutions Sentronics delivers for us."
Neville Meech, Managing Director of Sentronics, said, "The roll-out of the TrackCal is the next logical step in enhancing and streamlining our support of IMSA. Our investment in mobile laboratory-grade equipment allows us to ensure the ultimate in on-board fuel consumption and trackside refuelling measurement, and we hope will prove a vital tool in assisting IMSA's technical processes, not least in the new GTP class. We're looking forward to playing our part in IMSA's exciting future."